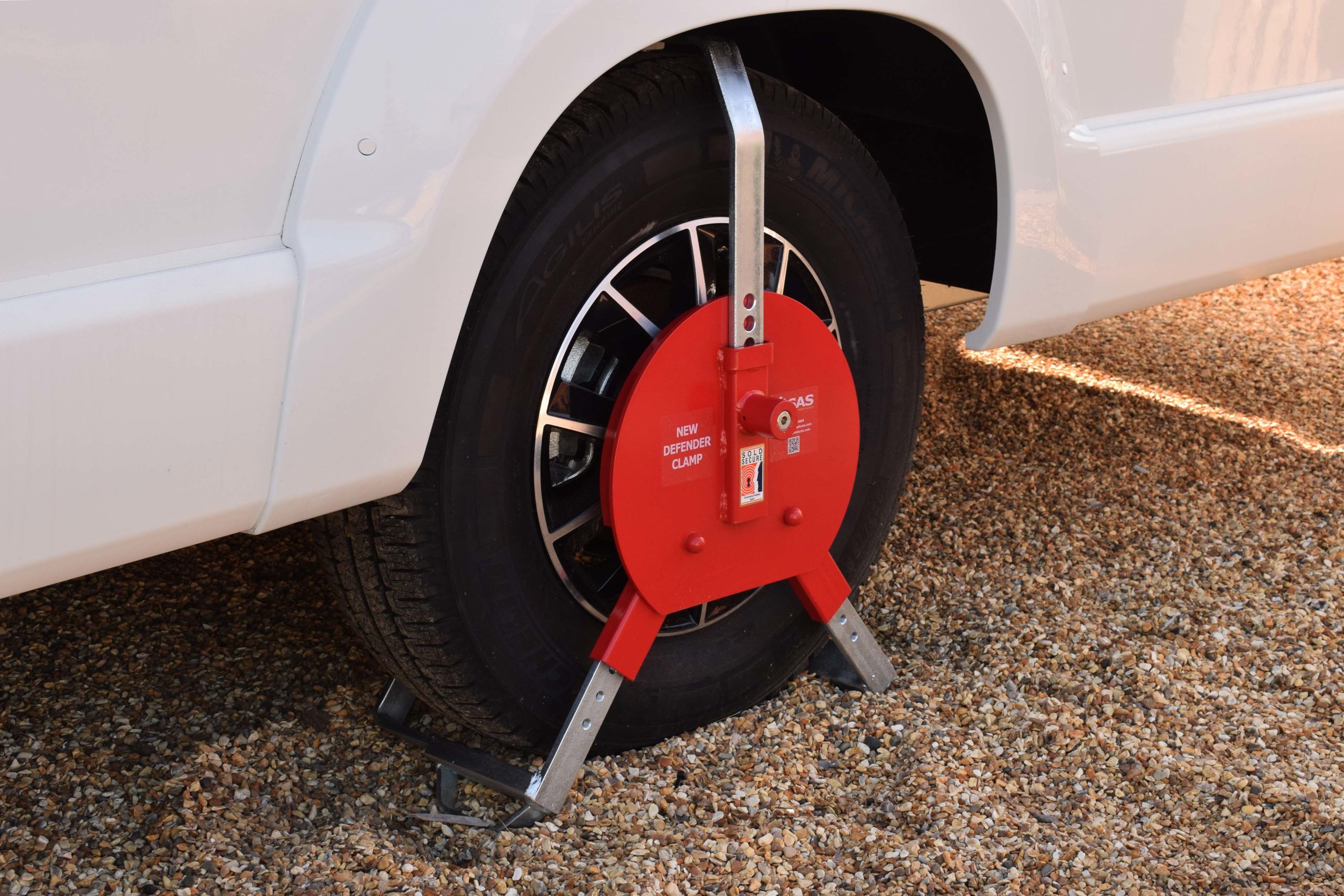 New Defender Wheel Clamp Range
The SAS New Defender Wheel Clamp Range is designed to fit on both steel or alloy wheels. They work by covering a wheel nuts on the rim and locking in place with 3 hardened steel arms. The Range consists of 2 models of Wheel Clamp, The New Defender and New Defender Large. The Clamps are very adjustable and will fit 490mm tyre diameters to 830mm and up to 295mm widths. For smaller wheels or a slightly different design clamp, please see the HD Range or Supaclamp ranges. To find which clamp will fit your wheels, please refer to the Wheel Clamp Finder guide.
The Range on this page is specifically suited to larger wheels. The New Defender Clamps hold Gold Sold Secure approval giving potential insurance premium benefits. For smaller wheels 14″ rims and down we recommend the one piece clamps. For Alloy wheels or wheels over 16″ the Supaclamp Range and New Defender Range are recommended.
The New Defender is perfect for short term security when parked up as well as a great option for long term over winter storage. Because it is so simple to fit and remove, and because of the security it offers, this clamp is unbeatable for versatility. The New Defender Range will soon be able to be keyed alike with the some of the Supaclamp range and Eye Locks. Please contact us for more information.
All terrain vehicles, Car & Van Wheel Clamps, Caravan & Motorhome, Marine, Motorhome Wheel Clamps, New Defender Wheel Clamp Range, Trailer, Trailer Wheel Clamps, Trailer Wheel Clamps, Vehicles, Wheel Clamps

New Defender Large Wheel Clamp

The New Defender large wheel clamp is a versatile wheel clamp designed to fit alloy or steel wheels with 16″ – 22″ rims and up to 295mm tyre widths.

Find your…

£

224.99 –

£

231.99